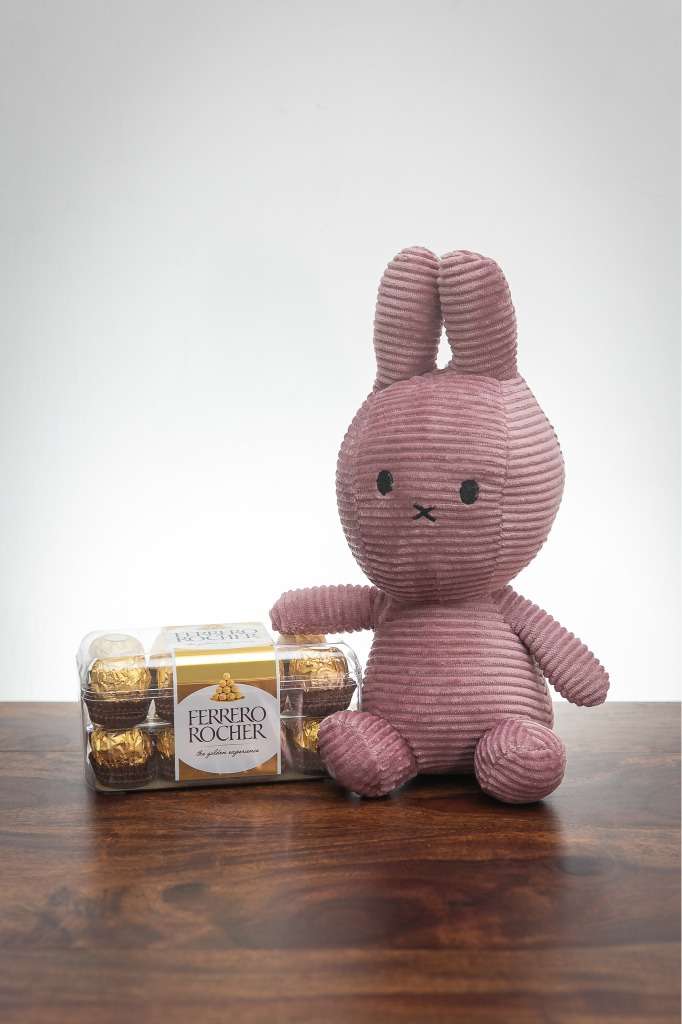 Choco Bunny - Ferrero Rocher
Item # 315
FEATURED
Rates are inclusive of packaging and delivery within 10 kms from Mapusa, Goa.
All our products are delivered fresh in an air-conditioned vehicle.
About Choco Bunny - Ferrero Rocher
A cute and soft corduroy bunny plush toy (approx 7" height) along with a 16 piece box of Ferrero Rocher chocolates.
The items are packaged in a delightful gift bag.
* Colour of bunny plush toy may vary from image depending on availability.
Customer Reviews
Thank you Joshua for helping me make someone's day a very happy day. Your system of ordering is so easy and quick. I am happy that I can send my loved ones goodies for any occasion for miles away. Keep up the good work. Sallie
We had an impressive experience with Fluver right from the initial query until delivery. They were prompt and detail oriented with their feedback over WhatsApp and email which helped smooth the decision / order process. Delivery was done on time. Most importantly, the arrangements were beautiful and made the recipient's day. Overall, excellent experience!
Some other Gift Ideas you may like...
Some other Birthday Gifts you may like...
Some other Anniversary Gifts you may like...
Some other I'm Sorry Gifts you may like...
Some other Love and Romance Gifts you may like...