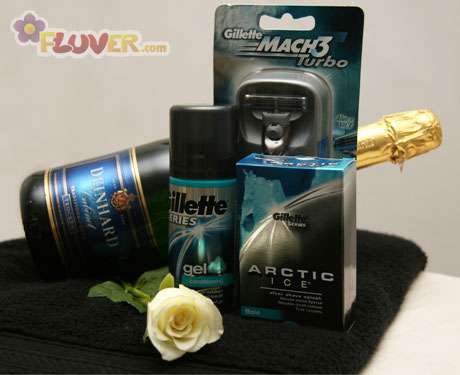 Item # 140
This product needs to be ordered at least 2 days in advance.
Rates are inclusive of packaging and delivery within 10 kms from Mapusa, Goa.
All our products are delivered fresh in an air-conditioned vehicle.
About One for the Boys
A great hamper with:


1 Bottle of Imported Champagne/Prosecco
Gillete Mach 3 Razor
Gillete Shaving Gel (75 ml)
Gillete After Shave (50 ml)
Hand Towel / Deo Soap
Customer Reviews
Unparalleled service. I've used them for the past 5 years for every family occasion. Living in another country I've often missed family birthdays, anniversaries. But through Fluver I have managed to somehow be a part of all of them by sending cakes and flowers and more. Great work guys. And thank you:)
Excellent customer service and a prompt delivery of flowers. Thank you very much.
Some other Gift Ideas you may like...
Some other Birthday Gifts you may like...
Some other Anniversary Gifts you may like...