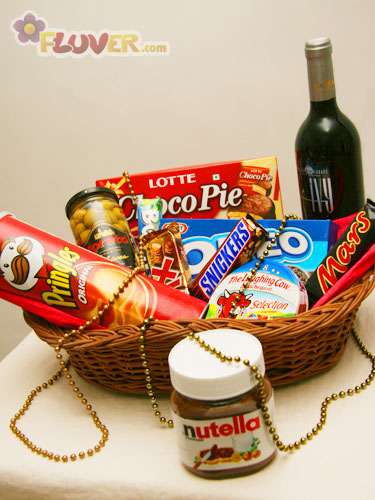 Item # 136
Rates are inclusive of packaging and delivery within 10 kms from Mapusa, Goa.
All our products are delivered fresh in an air-conditioned vehicle.
About Picnic Basket
A delightful hamper with:



Pringles (Original flavour - 170 gms)
1 Box of Choco Pie (168 gms)
1 Box of Oreo cookies (300 gms)
Twix Chocolate Bar (50 gms)
Bounty Chocolate Bar (50 gms)
Mars Chocolate Bar (50 gms)
Snickers Chocolate Bar (50 gms)
1 Bottle of Premium Indian Red Wine
1 Bottle of Imported Olives (450 gms)
"Laughing Cow" Cheese (140 gms)
Nutella (350 gms)

This hamper comes in a beautiful basket (design may vary from photo)
Customer Reviews
Excellent customer service and a prompt delivery of flowers. Thank you very much.
Thank you Joshua and the team for the best customer service, timely deliveries and the best quality cakes and flowers ever. Extremely professional and I can definitely count on you guys to make my loved ones day much more special.Highly recommend :)
Some other Gift Hampers you may like...