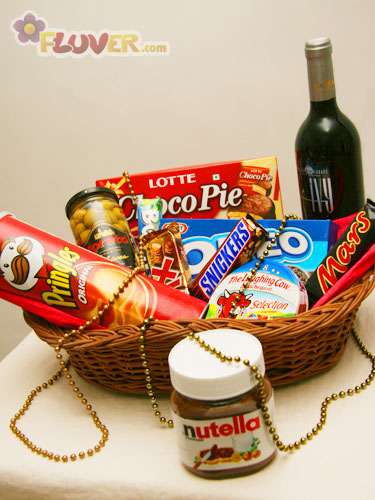 Item # 136
Rates are inclusive of packaging and delivery within 10 kms from Mapusa, Goa.
All our products are delivered fresh in an air-conditioned vehicle.
About Picnic Basket
A delightful hamper with:



Pringles (Original flavour - 170 gms)
1 Box of Choco Pie (168 gms)
1 Box of Oreo cookies (300 gms)
Twix Chocolate Bar (50 gms)
Bounty Chocolate Bar (50 gms)
Mars Chocolate Bar (50 gms)
Snickers Chocolate Bar (50 gms)
1 Bottle of Premium Indian Red Wine
1 Bottle of Imported Olives (450 gms)
"Laughing Cow" Cheese (140 gms)
Nutella (350 gms)

This hamper comes in a beautiful basket (design may vary from photo)
Customer Reviews
Unparalleled service. I've used them for the past 5 years for every family occasion. Living in another country I've often missed family birthdays, anniversaries. But through Fluver I have managed to somehow be a part of all of them by sending cakes and flowers and more. Great work guys. And thank you:)
Fluver been fantastic and amazing service, Fluver gets u connected with ur loved ones who are miles away ... Joshua I think u deserve more then 5 star rating loved it
Some other Gift Hampers you may like...