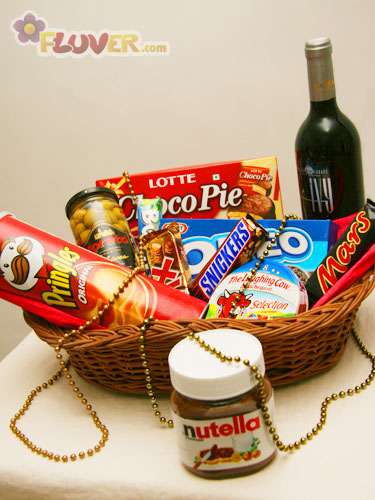 Item # 136
Rates are inclusive of packaging and delivery within 10 kms from Mapusa, Goa.
All our products are delivered fresh in an air-conditioned vehicle.
About Picnic Basket
A delightful hamper with:



Pringles (Original flavour - 170 gms)
1 Box of Choco Pie (168 gms)
1 Box of Oreo cookies (300 gms)
Twix Chocolate Bar (50 gms)
Bounty Chocolate Bar (50 gms)
Mars Chocolate Bar (50 gms)
Snickers Chocolate Bar (50 gms)
1 Bottle of Premium Indian Red Wine
1 Bottle of Imported Olives (450 gms)
"Laughing Cow" Cheese (140 gms)
Nutella (350 gms)

This hamper comes in a beautiful basket (design may vary from photo)
Customer Reviews
Thank you Joshua for helping me make someone's day a very happy day. Your system of ordering is so easy and quick. I am happy that I can send my loved ones goodies for any occasion for miles away. Keep up the good work. Sallie
Excellent customer service and a prompt delivery of flowers. Thank you very much.
Some other Gift Hampers you may like...