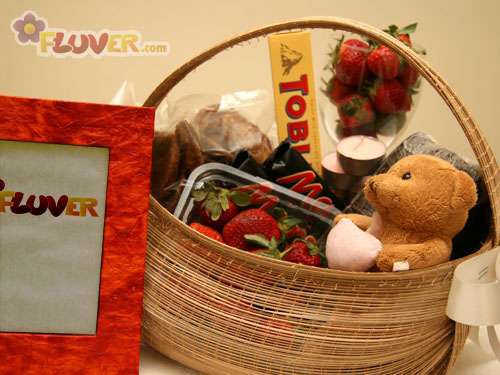 Item # 102
FEATURED
This product needs to be ordered at least 2 days in advance.
Rates are inclusive of packaging and delivery within 10 kms from Mapusa, Goa.
All our products are delivered fresh in an air-conditioned vehicle.
About Basket of Memories
A romantic hamper with:


Half KG Chocolate Cake
One packet of Chocolate Chip Cookies
Three medium-sized bars of Imported Chocolate
One small Soft Toy (may vary from photo)
Seasonal Fruit (Approx. 200 gms)
One hand-made Photo Frame (to fit photo size 4" x 6" - design may vary from photo)
Six Tea Light Candles

This hamper comes in a beautiful basket (design may vary from photo)
Customer Reviews
Thank you Joshua for helping me make someone's day a very happy day. Your system of ordering is so easy and quick. I am happy that I can send my loved ones goodies for any occasion for miles away. Keep up the good work. Sallie
Excellent customer service and a prompt delivery of flowers. Thank you very much.
Some other Gift Hampers you may like...