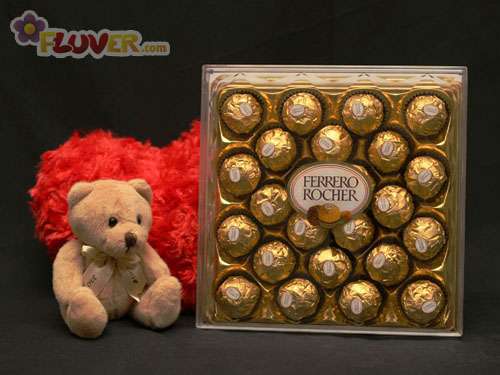 Item # 200
Rates are inclusive of packaging and delivery within 10 kms from Mapusa, Goa.
All our products are delivered fresh in an air-conditioned vehicle.
About Chocolate Plushy
A lovely combination of a big box of Ferrero Rocher chocolates (24 pieces) and a cute lil plush toy

* Red heart not included.
Customer Reviews
Thank you Joshua and the team for the best customer service, timely deliveries and the best quality cakes and flowers ever. Extremely professional and I can definitely count on you guys to make my loved ones day much more special.Highly recommend :)
Awesome Service!!! Highly Recommended , all year around!!! Keep up the great work !!! Cheers!!!
Some other Gift Ideas you may like...
Some other Anniversary Gifts you may like...
Some other I'm Sorry Gifts you may like...
Some other Love and Romance Gifts you may like...