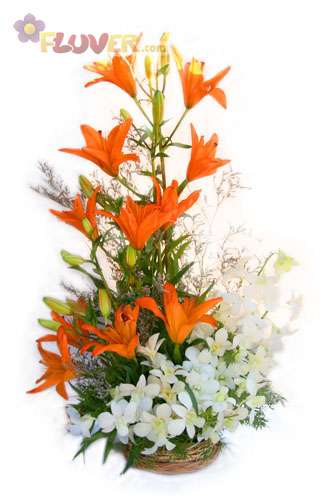 Orange Lilies and White Orchids
Item # 129
Rates are inclusive of packaging and delivery within 10 kms from Mapusa, Goa.
All our products are delivered fresh in an air-conditioned vehicle.
The overall look of our flower arrangements are the same as shown in the images. However, there is no particular count of flowers (unless specified above).
Flower colours may vary depending on availability. In most cases, the same colour combinations would be used, as shown in the images.
About Orange Lilies and White Orchids
Flame orange lilies accompanied by innocent white orchids, a beautiful arrangement for any occasion.
Customer Reviews
Thank you Joshua for helping me make someone's day a very happy day. Your system of ordering is so easy and quick. I am happy that I can send my loved ones goodies for any occasion for miles away. Keep up the good work. Sallie
Best quality, excellence in service and they even provide a far better product than your expectations.
Some other Flowers you may like...